Join 1 Course & Get 2 Course FREE
(Limited Period Offer. Closing Soon)
Join Skin Aesthetics @ 76,990/- &
Get Trichology & Obesity Management worth 80,000/- FREE
This course can be done by 2 methods :
Method 1: ONLINE
Designed using latest American software. Video lessons with Audio explanations, Diagrams, Real Case Studies for in-depth & easy learning.
Duration: 1 ½ Months.
Fees: 39,990/-.
For Prospectus & Batch Dates, send us Enquiry Form in 'Contact Us'.
Method 2: CLASSROOM
Duration: 1 ½ Months.
Day: Every Sunday
Fees: 39,990/-. For Prospectus & Batch Dates, send us Enquiry Form in 'Contact Us'.
Eligibility: Doctor, Graduate in any field or Educated Beauty Therapist.
Trainers: Dermatologist / Medical Cosmetologists.
 Job Opportunity: Work as Skin Aesthetician / Clinical Cosmetologist in Skin clinics or Start your own Skin / Cosmetology Clinic. See 'Careers' Page for more details.

1. Hair & Scalp Anatomy
2. Hair Analysis with Trichoscope
3. Hair Fall Therapies:
    a. Laser Scalp Stimulation Therapy
    b. PRP Therapy
    c. Micro Needle Therapy
    d. Meso Therapy
4. Hair Volume Enhancement : Camouflaging by Hair Integration for diffused hair loss/      hair thinning,
5. Hair Follicle Thightening: NA technique for Anagen Phase Growth.
6. Ionisation of Scalp to enhance nourishment in Hair Thinning, Hair Fall & Dandruff.
7. Anti-Dandruff Therapy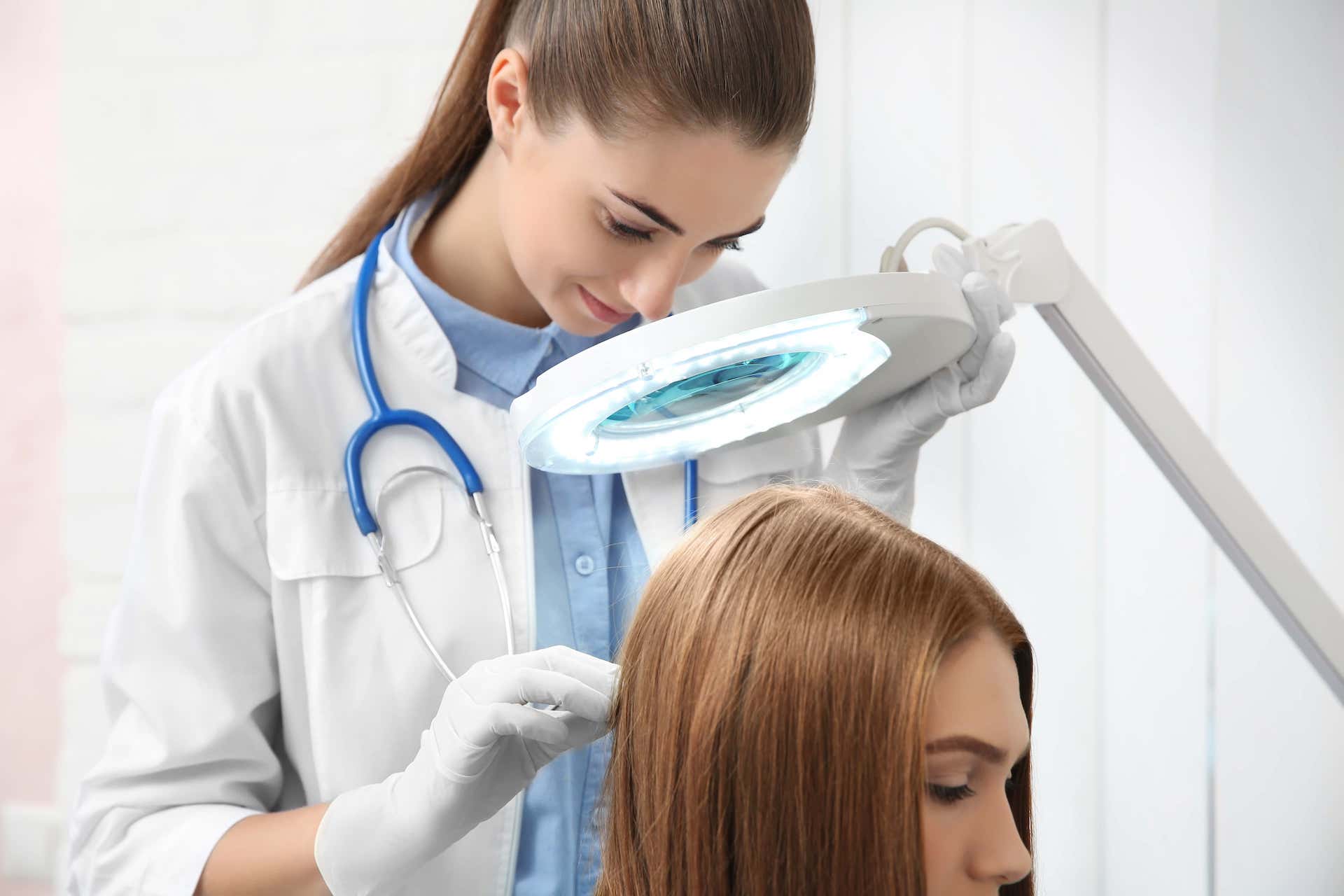 The Contents and Design of this Website are protected under "Trademark and Copyright Laws". All rights reserved. The unauthorized reproduction or distribution of the contents of this website including but not limited to the course materials is illegal. Any attempt by a user to steal/copy such content will result in the user being prosecuted under the applicable national and international copyright laws. Convictions under criminal/civil copyright infringement, including infringement without monetary gain may include jail term and/or severe fines for each instance of copyright infringement.