PG Diploma in Skin Aesthetics

Join SKIN AESTHETICS @ 76,990/- &
Get TRICHOLOGY & OBESITY worth 80,000/- FREE
 
(Limited Period Offer. Closing Soon)


This course can be done by 2 methods :
Method 1: ONLINE
Designed using latest American software. Video lessons with Audio explanations, Diagrams, Graphics, Real Case Studies for in-depth & easy learning.
Duration: 4 Months.
Fees: 76,990/-.
For Prospectus, Sample Training Video & Batch Dates, send us Enquiry Form in 'Contact Us'.
Method 2: CLASSROOM/ OFFLINE
Duration: 3 Months.
Days & Time: Every Sundays – 9 to 11:30
Fees: 76,990/-. For Prospectus & Batch Dates, send us Enquiry Form in 'Contact Us'.
Eligibility: Doctor, Graduate in any field or Educated Beauty Therapist.
Trainers: Dermatologist / Medical Cosmetologists.

 Job Opportunity: Work as Skin Aesthetician / Clinical Cosmetologist in Skin clinics or Start your own Skin / Cosmetology Clinic. See 'Careers' Page for more details.

1. Skin & Face Muscle Anatomy & Physiology 
100% HANDS-ON PRACTICALS OF:
2. LASERS in Cosmetology Science :
    a. Laser Photo Facial & Skin Lightening along with Carbon Peel
    b. Permanent Hair Removal for Hirsutism with Advanced Lasers
    c. Removal of Tattoo & Permanent Make-up with Lasers
    d. Correction of Freckles, Age Spots, Acne Marks with Lasers
    e. LASER Therapy to treat Acne/ Pimples
3. CHEMICAL PEELS:- 7 different solo & combination peeling: :-
    A. Mild Chemical Peels for :
        a. Anti Tanning
        b. Skin Whitening
        c. Skin Smoothening & Tightening
   B. Advance Deep Chemical Peels:
       a. Wrinkle Correction
       b. Skin Rejuvenation
       c. Photo Ageing
       d. Periorbital Pigmentation
4. ACNE TREATMENT for :
    a. Dermato-Medical approach to Acne & Pimple treatment.
    b. Photo Therapy to treat Acne/ Pimples.
    c. Beta Hydroxy Acid procedure for Acne treatment.
5. NON SURGICAL FACE UPLIFT with computer/ digital controlled machines
    a. Face Muscle Tightening
    b. Nasolabial Fold
    c. Periorbital Area
6. MICRO-CRYSTAL TECHNOLOGY
    a. Skin Polishing
    b. Acne Scar Tissue Repair.
7. FACE TIGHTENING & REJUVENATION:
    a. Natural Induction of Collagen
    b. Micro–Current Therapy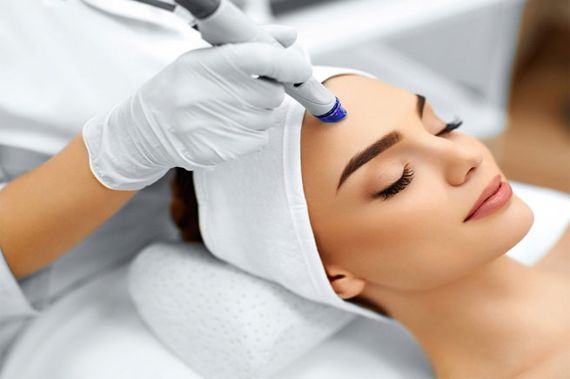 The Contents and Design of this Website are protected under "Trademark and Copyright Laws". All rights reserved. The unauthorized reproduction or distribution of the contents of this website including but not limited to the course materials is illegal. Any attempt by a user to steal/copy such content will result in the user being prosecuted under the applicable national and international copyright laws. Convictions under criminal/civil copyright infringement, including infringement without monetary gain may include jail term and/or severe fines for each instance of copyright infringement.