About 10 Trainers – M.D. Dermatologists, Medical Cosmetologists, Dieticians, Fitness Experts, Spa & Massage Experts look after the training.
Chartered Accountants, Legal Experts & Senior Management Consultants take care of the functioning at Tulip.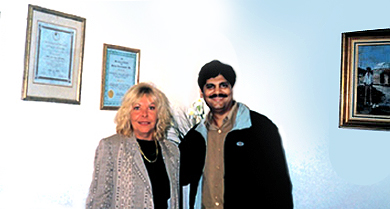 Principal Suzette Barlin with Prof. Shridhar Kamat
Principal Suzette Barlin
Chairperson (1991) & National President (1992) of the Association of Professional Aesthetician of Australia (APAA)

Conferred Special Award (1999) for meritorious services to Australian beauty industry

40 years of rich experience & top of the line work experience in the field of Wellness & Cosmetology.
Prof. Shridhar Kamat
Head - Operations & Wellness Course
Ayurveda Pravin(DAMS).
Certified Fitness Consultant
Certified Naturopath
Post Graduate in Business Management
30 years of successful Entrepreneurship, Teaching & Business Consultancy.
Dr. Sonali Kamat
Head - Nutrition & Cosmetology Courses
PhD Medical Cosmetology, USA
Post Graduation in Medical Cosmetology & Trichology, Australia
M.Sc. Nutrition & Dietetics
B.Sc. ( Microbiology)
30 years of teaching experience
CA Krishna Kamat
Operations & Finance Manager
Chartered Accountant.
M.Com (Gold Medalist).
Ms. Sarthi Kamat
Course & Student Co-ordinator

      Registered Dietician, USA
      Member, ICMR     
     Graduation
Nutrition & Genetics, Delhi
     Post Graduation
Nutrition Science, Cornell University, New York, USA
Nutrition & Clinical Dietetics, Los Angeles, California, USA
Mr. Anil Rajadhyaksha
M. Tech(USA), MBA (USA), System Analysis (IIM Ahmedabad)
30 years as Management Consultant & Entrepreneurship.
Mr. Roshan Almeida
B.Com.
Dip. Fitness Management,
Dip. Nutrition & Diet Planning
15 years experience as Fitness Consultant
Dr. Ashok Shetty
M.B.B.S., M.D.(Dermatology)
About 30 years practice as Skin Consultant.
Ex-Lecturer at Grant Medical College (J.J. Hospital),
Dy. Director Health Services- ISKCON Bhakti Vedant Hospital.
Dr. Prachi Prabhu
M.B.B.S., M.D.(Medicine),
P.G. Dip in Nutrition & Dietetics.
Worked in Hinduja Hospital &
Goa Medical College & Hospital.
Dr. Manisha Waghdhare
MBBS, M.D. (Skin)
Practicing Dermatologist,
Trichologist & Cosmetologist
Dr. Sonal Pawar
MBBS, DDV
Practicing Dermatologist & Cosmetologist
Dr. Sameera Sirguroh
BHMS, DSA, D.BSc
Practicing Homeopath, Cosmetologist  & Trichologist
Dr. Della Ashton
MBBS, PG Diplomas in Medical Aesthetics, Trichology & Dietetics
Practicing GP & Medical Cosmetology.
Dr. Manasi Malsse
BHMS, DNDP
Practicing Homeopath & Diet Consultant
Mr. Kishor Maru
B.P.Ed, ACSM Fitness Trainer.
10 years experience as Fitness Consultant
Satish Jakkani
Yoga Guru & Health Therapist with 9 years of experience.
The Contents and Design of this Website are protected under "Trademark and Copyright Laws". All rights reserved. The unauthorized reproduction or distribution of the contents of this website including but not limited to the course materials is illegal. Any attempt by a user to steal/copy such content will result in the user being prosecuted under the applicable national and international copyright laws. Convictions under criminal/civil copyright infringement, including infringement without monetary gain may include jail term and/or severe fines for each instance of copyright infringement.