About 10 Trainers – M.D. Dermatologists, Medical Cosmetologists, Dieticians, Fitness Experts, Spa & Massage Experts look after the training.
Chartered Account, Legal Experts & Senior Management Consultants take care of the functioning at Tulip.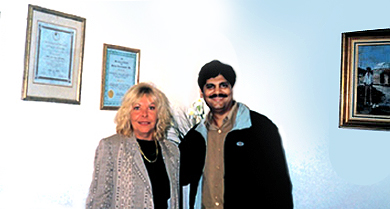 Principal Suzette Barlin with Prof. Shridhar Kamat
Principal Suzette Barlin
Chairperson (1991) & National President (1992) of the Association of Professional Aesthetician of Australia (APAA)

Conferred Special Award (1999) for meritorious services to Australian beauty industry

40 years of rich experience & top of the line work experience in the field of Wellness & Cosmetology.
Prof. Shridhar Kamat
Head - Operations & Wellness Course
Ayurveda Pravin(DAMS).
Certified Fitness Consultant
Certified Naturopath
Post Graduate in Business Management
30 years of successful Entrepreneurship, Teaching & Business Consultancy.
Ms. Sonali Kamat
Head - Administration and Nutrition & Cosmetology Courses
B.Sc. ( Microbiology)
Post Graduate in Nutrition & Dietetics
Australia Certified Cosmetologist and Aesthetician.
20 years of teaching and managerial experience
CA Krishna Kamat
Operations & Finance Manager
Chartered Accountant.
M.Com (Gold Medalist).
Ms. Sarthi Kamat
Student & Course Co-ordinator.

      Registered Dietician, USA     
     Graduation
B.Sc. (Nutrition & Genetics), Delhi
     Post Graduation
Masters Nutrition Science, Cornell University, New York, USA
Masters Nutrition & Dietetics, Los Angeles, California
Mr. Anil Rajadhyaksha
M. Tech(USA), MBA (USA), System Analysis (IIM Ahmedabad)
30 years as Management Consultant & Entrepreneurship.
Mr. Roshan Almeida
B.Com.
Dip. Fitness Management,
Dip. Nutrition & Diet Planning
15 years experience as Fitness Consultant
Dr. Ashok Shetty
M.B.B.S., M.D.(Dermatology)
About 30 years practice as Skin Consultant.
Ex-Lecturer at Grant Medical College (J.J. Hospital),
Dy. Director Health Services- ISKCON Bhakti Vedant Hospital.
Dr. Prachi Prabhu
M.B.B.S., M.D.(Medicine),
P.G. Dip in Nutrition & Dietetics.
Worked in Hinduja Hospital &
Goa Medical College & Hospital.
Dr. Manisha Waghdhare
MBBS, M.D. (Skin)
Practicing Dermatologist,
Trichologist & Cosmetologist
Dr. Sonal Pawar
MBBS, DDV
Practicing Dermatologist & Cosmetologist
Dr. Sameera Sirguroh
BHMS, DSA, D.BSc
Practicing Homeopath, Cosmetologist  & Trichologist
Dr. Della Ashton
MBBS, PG Diplomas in Medical Aesthetics, Trichology & Dietetics
Practicing GP & Medical Cosmetology.
Dr. Manasi Malsse
BHMS, DNDP
Practicing Homeopath & Diet Consultant
Mr. Kishor Maru
B.P.Ed, ACSM Fitness Trainer.
10 years experience as Fitness Consultant
Satish Jakkani
Yoga Guru & Health Therapist with 9 years of experience.